How It Works
Order your Steam Oven
You'll get your Tovala in 2-7 business days, and you'll have 180 days to try it out, completely risk free.
Pick your meals
You can pick your meals and the timing of your Meal Box deliveries right when you order your Tovala or at any point in the future. You can skip a week or schedule future Meal Boxes at any time.
Set up your Tovala
Once it arrives, you'll connect it to WiFi in a few easy steps. The Tovala is internet connected so you can control it with your app, and so it can get info from the cloud to cook Tovala Meals.
Learn more
You let us do the meal prep
Once all of your choices are finalized, we'll order your ingredients to make sure there's not any food waste. Then our chefs create, prepare, and par-cook your meals.
Learn more
Get fresh, chef-prepared Tovala Meals delivered to your doorstep
Your Meal Box will be delivered once a week. It's safe on your doorstep until midnight that night.
Add the sauce, scan the barcode, and press start.
That's it. Really!
When you scan the barcode, the Tovala gets that Tovala Meal's recipe from the cloud, so it knows how to cook it to perfection.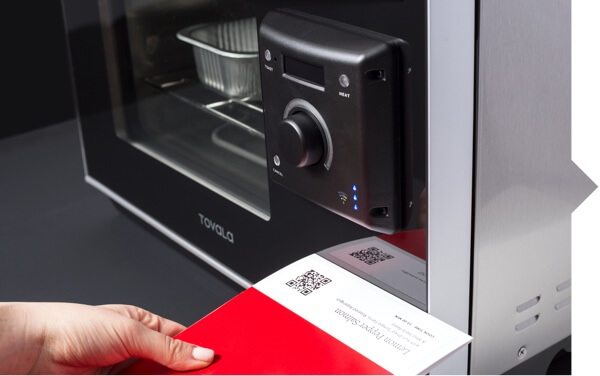 Do your thing while your meal cooks!
Open your mail, play with your dog, and call your mom. Tovala is taking care of dinner so you can take care of the things that matter.
Add garnishes, plate and enjoy!